It's that time of year again! The time when millions of letters make their way up, up and away to the Scout Elves and Santa Claus at the North Pole, filled with wishes, messages, hopes and more.
There are lots of different ways for the whole family to enjoy writing letters to Santa this year, whether it's online, at the post office with Royal Mail, or with our magical Scout Elf Express Delivers Letters to Santa® kit!
To help answer your questions – what is Santa's address? How can Father Christmas be reached at the North Pole? How can we make sure he receives my letter? – Santa's Scout Elves have compiled the tried and true ways to make sure Santa Claus always receives your letter!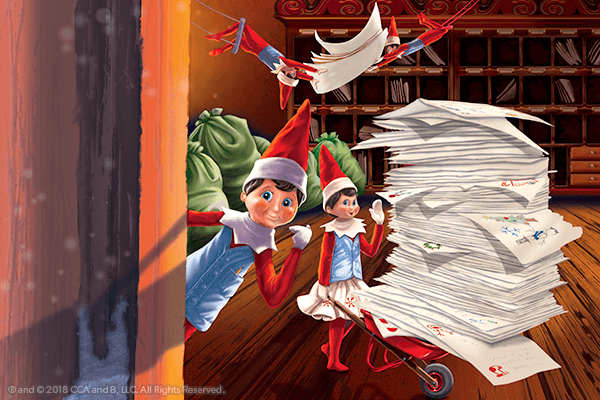 How do I send my letter to Santa?
For ages, there have been many ways to relay messages to Santa. From snail mail to emails and even age-old traditions – like in Scotland, where children shout their messages up the chimney to Father Christmas – the possibilities are almost endless.
As part of their duty for Santa, Scout Elves fly to the North Pole every night to tell Santa Claus about your family's adventures. Next time they're getting ready for their super speedy trip, ask them to carry your letter! This Scout Elf Express delivery system is so beloved by Santa that he put his official stamp of approval on this delivery method. Read all about it, and get the tools to craft the perfect letters to Santa, in Scout Elf Express Delivers Letters to Santa®.
Our Scout Elf Express Delivers Letters to Santa® kit is a one-of-a-kind activity storybook that brings together the beloved Christmas traditions of writing letters to Santa, trimming the tree, holiday baking and The Elf on the Shelf®. The ultimate Christmas kit comes with one enchanting storybook, 6 pieces of Santa's Special Paper®, Mrs. Claus' Magic Press, 6 Scout Elf sashes, 2 markers, and 2 sheets of parchment paper.
Watch magic unfold as Santa's Special Paper® transforms your full-sized letters to Santa Claus into elf-sized messages that can be delivered straight to the North Pole by their Scout Elf! After Father Christmas reads the letter, your elf will bring it back to hang on the tree as a keepsake ornament. Imagine, your letter to Santa delivered on time, every time with a white-glove guarantee – it's priceless!
Where do I send my letter to Santa?
There are other ways to send your letters to Santa, too! Why not visit his online mailroom on our website where you can send Father Christmas a special message?
Visit our Santa letter tool to submit wish lists, messages, questions and more directly to Santa. Just fill in your name and what you'd like to tell him!
It's super easy and quick, and will have your hopes and dreams flying up above the Northern Lights and on their way to him in no time. While you're there, listen to a special message from the Big Man in Red (message can only be heard on desktop computers).
What is Santa's address?
Lastly, you can always send your letters by Snail Mail! Take your messages to the post office and send them by Royal Mail. Writing your envelope at the post office? Don't forget to ask your grown-ups to help you include Santa's official address, a delightfully festive stamp, and your name and address. Also, make sure you double-check Royal Mail's recommended Christmas last posting dates for all UK and overseas mail!
What is Santa's address and postcode? Here it is:
The North Pole
Unit 9 Madingley Court
Chippenham Drive
Milton Keynes, Buckinghamshire
MK10 0BZ

The address above is for the Southern Branch of the North Pole, and is filled with humans who work for Santa. This particular centre specialises in child-to-elf correspondence and is happy to pass along messages to your family's Scout Elf, and also relay all of your important messages to Santa.
Fun while you're waiting
We bet you knew already, but Santa Claus really does love receiving your letters! In fact, his favourite hobby is reading every single letter sent to the North Pole to him by children just like you, along with working on his sleigh, and and using his childlike enthusiasm to tinker with toys. While he's waiting patiently to receive your messages, you'll find him carrying out his North Pole duties: managing the toyshop, overseeing the stables, sending Scout Elves to homes all over the world, and collecting Christmas cheer.
If you'd like a dose of festive fun, why not learn more about Santa? Read on to find out some new facts about Father Christmas.