Making dessert has never been as easy as the Scout Elves' six no-bake recipes that can be made in a snap! Put away the bakeware and mix your way to perfect desserts thanks to the lightning quick tips from the Scout Elves. Before you know it, your family will be enjoying these easy after dinner sweets, or satisfying sweet tooth cravings with these speedy, no-bake desserts.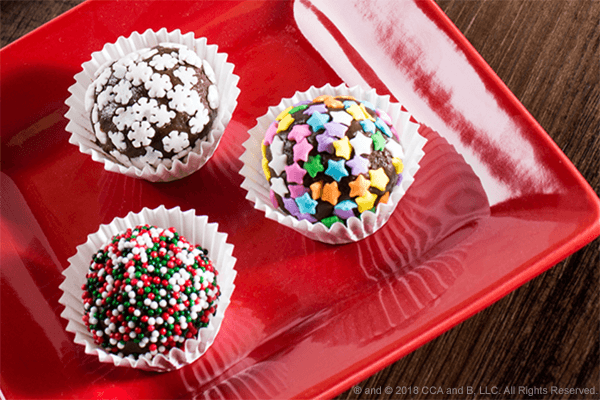 Tasty Truffles
Tasty Truffles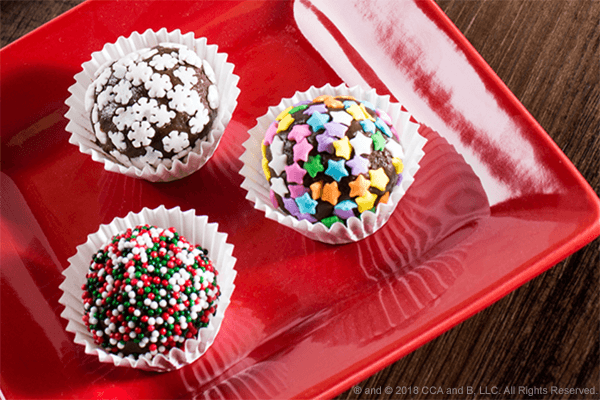 Makes 15–30 truffles
You'll Need:
1 can condensed milk
30g cocoa
2 tbsp. salted butter
1 tbsp. vanilla extract
Tall microwave-safe bowl
Flat-bottomed dish
Whisk
Sprinkles (or any other toppings of your choosing!)
Bun cases
Instructions:
In a tall microwave-safe bowl,

WHISK

together the condensed milk and cocoa powder.

CUT

the butter into small chunks and put them in the bowl.

MICROWAVE

for three minutes.

STIR

the mixture with a whisk until it is smooth.

MICROWAVE

for an additional 3 minutes.
Remove the bowl from the microwave and

WHISK

in the vanilla extract.
Evenly

SPREAD

the mixture in a flat-bottomed dish.

REFRIGERATE

for two hours.
Remove the mixture from the fridge, and using lightly greased hands,

ROLL

1½ teaspoons of the mix into a ball. Repeat.
Roll each truffle through the toppings of choice and

ROLL

in your bun cases.

ENJOY

!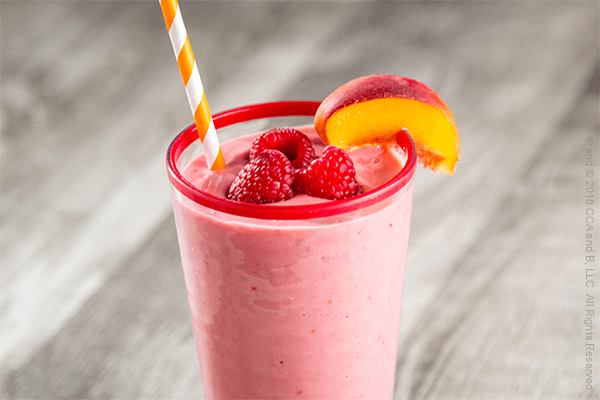 Peach Berry Smoothie
Peach Berry Smoothie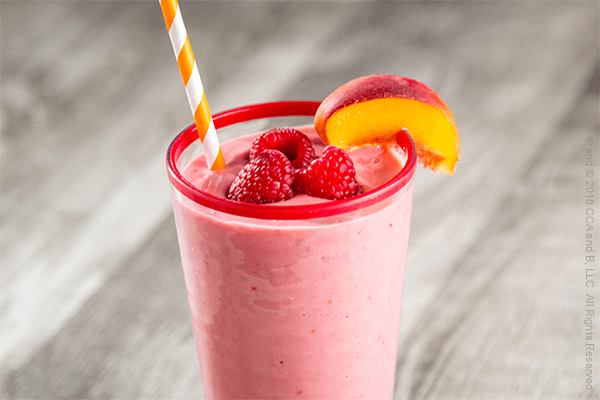 Makes: 1 smoothie (approx. 12 oz.)
You'll Need:
130g sliced peaches
65g frozen raspberries
130g vanilla almond milk
1-2 teaspoons honey
3-4 ice cubes
12 oz. cup
Blender
Instructions:
Combine all ingredients and

BLEND

until smooth. (Helpful hint: vanilla almond milk will add to the sweetness of your smoothie, but you can use any milk you prefer. Add more ice or milk to the recipe if you prefer a runnier smoothie.)

TAKE

a big sip of your berry delicious treat!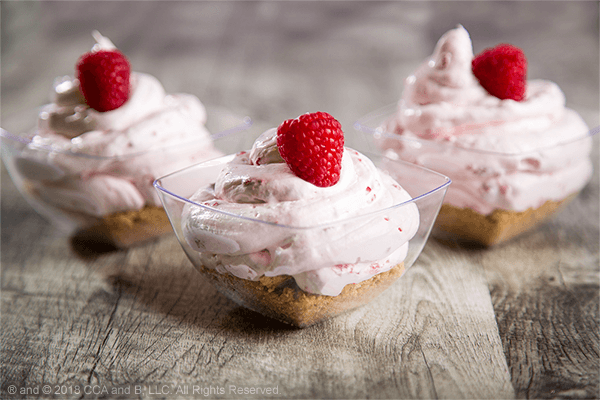 Cheesecake Cups
Raspberry Cheesecake Cups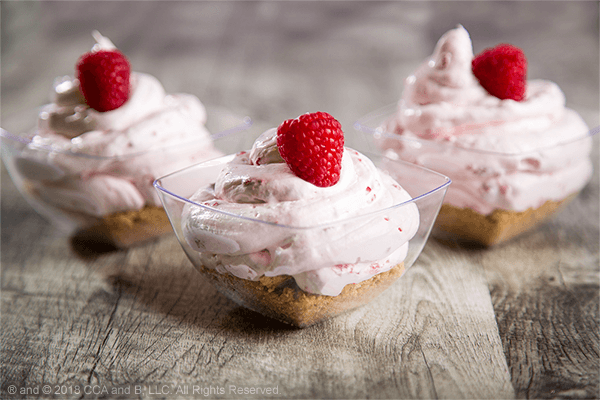 Makes 6 mini cheesecake cups
You'll Need:
Crust
95g of digestive biscuit crumbs
1 tbsp. sugar
3 tbsp. unsalted butter, melted
Filling
85g sugar
Cream cheese (8 oz.)
2 tsp. lemon juice
1 tsp. vanilla extract
250ml whipping cream
130g raspberries
Other
Bowl
Electric mixer
6 small serving bowls
Spoon or spatula
Instructions:
In a bowl,

STIR

together the digestive crumbs, sugar and butter to make the crust.
Divide the crust evenly among six small bowls and

PRESS

it firmly into the bottom of the dish.

MIX

together the sugar and cream cheese until smooth.
Add in the lemon juice and vanilla extra, mixing to

COMBINE

.

FOLD

in the whipped cream with a spoon or spatula, after whipping up the cream itself.

STIR

in the raspberries.
Divide the cheesecake among your six bowls evenly, and

COMBINE

raspberries on top as a garnish.

REFRIGERATE

for at least an hour before enjoying!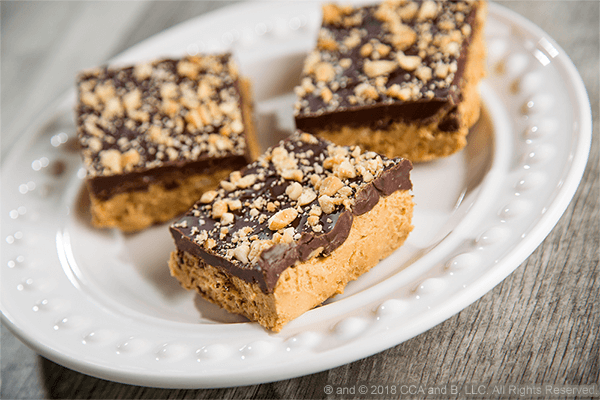 Peanut Butter Bars
Chocolate Peanut Butter Bars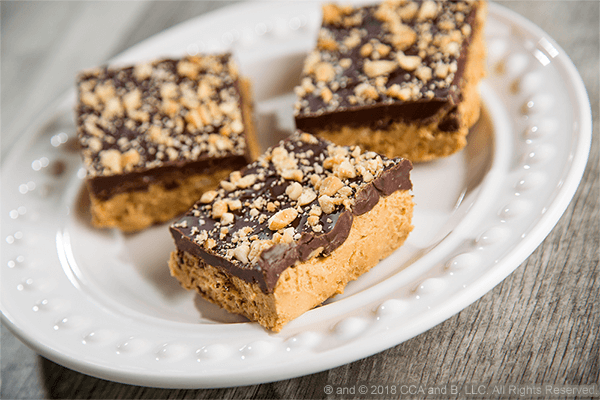 Makes approximately 12 bars
You'll Need:
65g butter
130g + 2 tbsp. creamy peanut butter (keep separated)
130g digestive biscuit crumbs
130g powdered sugar
130g chocolate chips
Pan (approximately 8"x8" or 9"x9")
65g chopped peanuts
Tin foil
Electric mixer
Bowls
Instructions:
LINE

an 8″x8″ or 9″x9″ pan with tin foil and set to the side.

PLACE

the butter in a bowl and microwave for 1 minute or until the butter is melted.
Add 130g of peanut butter, digestive biscuit crumbs, and powdered sugar and

STIR

until combined.

SPREAD

the mixture evenly throughout the tin foil–lined pan and place in the refrigerator.
Place 2 tbsp. of peanut butter and chocolate chips in a bowl and

MICROWAVE

in 30 second increments, stirring after each heating until smooth.

SPREAD

the chocolate over the top of the peanut butter layer.

SPRINKLE

the peanuts on top of the chocolate evenly.
Place back in the refrigerator and

CHILL

until firm (approximately 1 hour).

ENJOY

!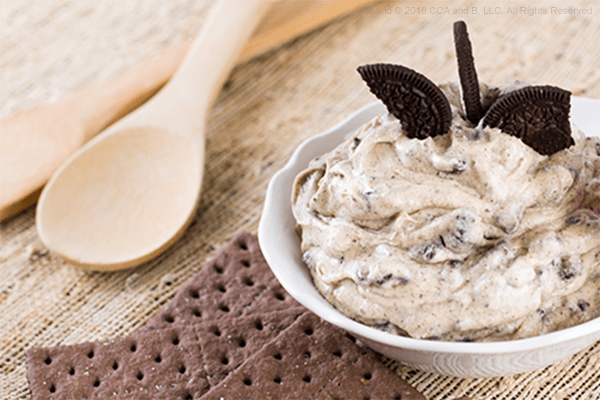 Cookies & Cream Dip
Cookies & Cream Dream Dip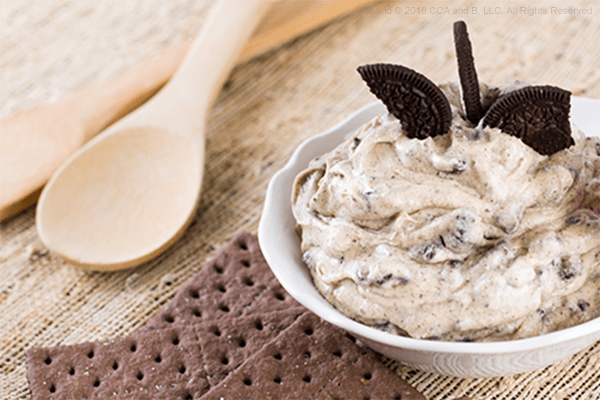 Makes approximately 10–12 servings
You'll Need:
230g whipped cream cheese
65g cup butter
130g whipped cream
130g powdered sugar
2 tbsp. brown sugar
1 tsp. vanilla extract
8–12 chocolate sandwich cookies
Bowl
Zipper storage bag
Whisk
Spatula
Cookies, crackers or fruit to dip
Instructions:
Using a whisk,

BEAT

the butter and cream cheese together until fluffy.

ADD

in the whipped cream, brown sugar, powdered sugar and vanilla extract and beat it with the whisk until smooth.
Place 10 chocolate sandwich cookies in a plastic zipper storage bag and

BEAT

them into fine pieces with your hands.
Using a spatula,

FOLD

the crushed chocolate sandwich cookies into the mixture.
Use the remaining cookies to

GARNISH

the dip, and dig right in!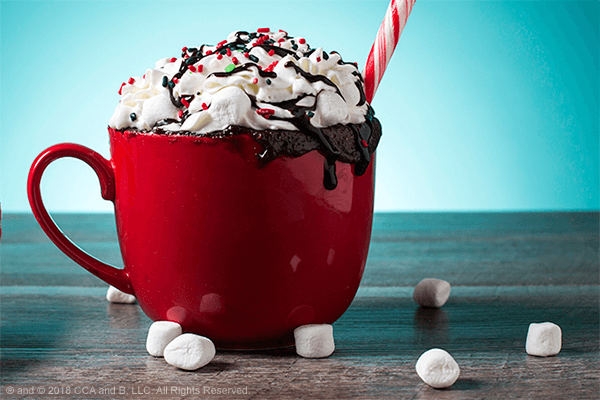 Cocoa Cup Cake
Cocoa Cup Cake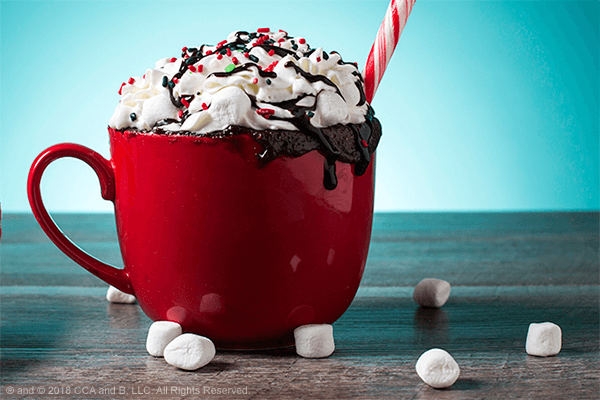 Makes: 1 cup cake
You'll Need:
3 tbsp. flour
3 tbsp. sugar
1 tablespoon cocoa powder
1 tablespoon hot cocoa mix
¼ tsp. baking powder
Pinch of salt
3 tbsp. milk
3 tbsp. vegetable oil
Splash of vanilla extract
3 tbsp. chocolate chips
Mini marshmallows
Whipped cream
12 oz. mug
Fork
Instructions:
In a microwave safe mug,

BEAT

together all dry ingredients.
Add in each liquid ingredient, one by one, and

WHISK

the mixture with a fork until the batter is smooth.

STIR

in chocolate chips.

MICROWAVE

for 90 seconds (until a tooth pick inserted in the cake comes out clean).
Garnish with marshmallows and whipped cream and

ENJOY

!
Looking for more delicious treats? Get more sweet treat recipes from Mrs. Claus!
This recipe may contain ingredients that can cause allergic reactions in certain individuals. Before using our recipes, always check the ingredient list and food labels of all ingredients and be sure to seek advice from a qualified physician if needed.