There's no better time than craft time at the North Pole, especially when Halloween comes around! Mrs Claus is a bit of a hoot when it comes to organising fun Halloween activities for the Scout Elves, and she'd like us to share with you her favourites. Which ones would your little ones like to try?
1. Paint a pumpkin
Halloween wouldn't be complete without a pumpkin or two, so why not turn it into a fun activity for you and the kids? With paint, a few brushes and some 'Monster Mash' on in the background, you can paint away the hours creating the ghouliest Halloween pumpkins around.
Top tip! Include some glow in the dark paint for an extra spooky finish.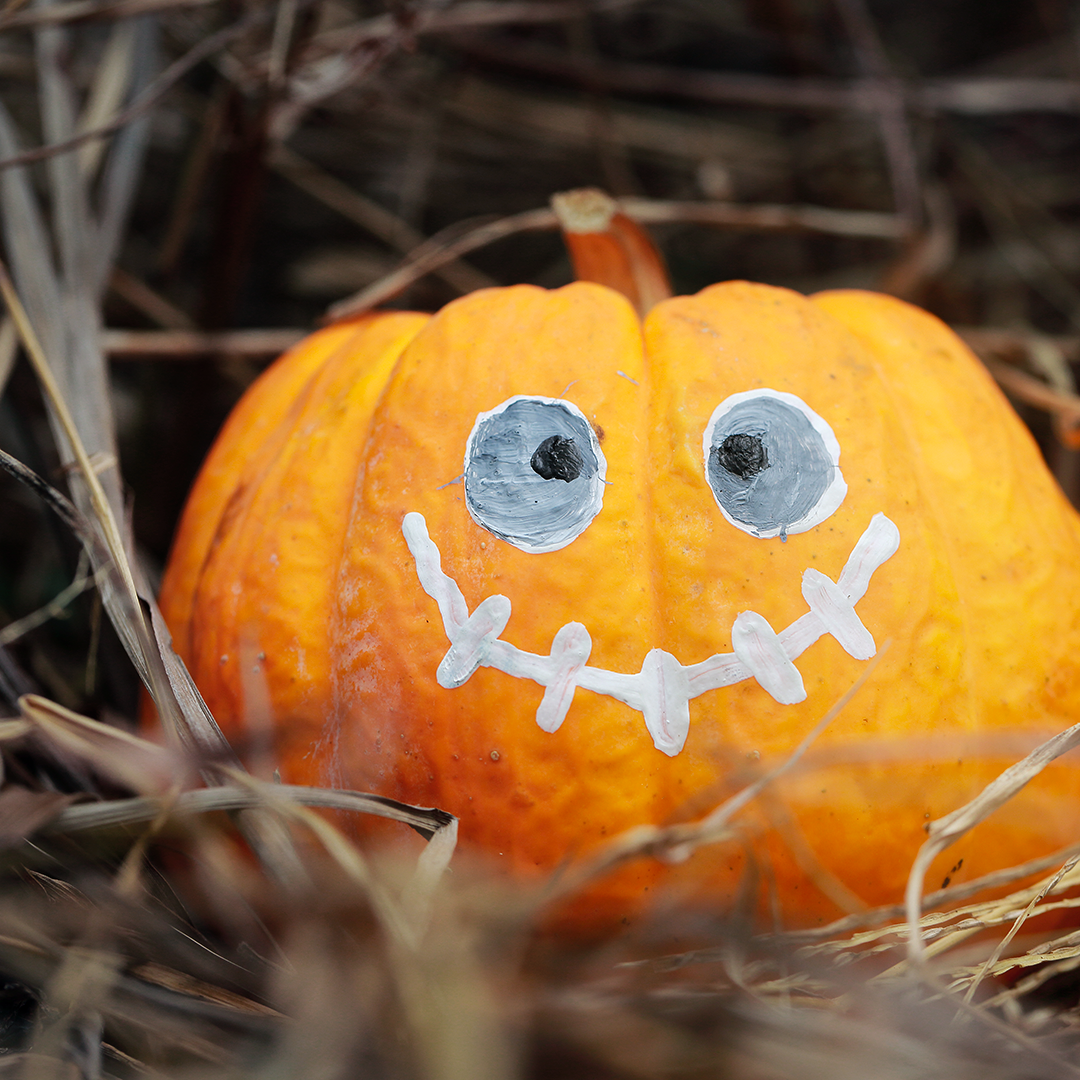 2. Homemade Halloween badges
Fancy dress is one of the best bits about Halloween! For one night only, you can be whoever you want to be. But what about the rest of the month?
Try your hand at making homemade Halloween badges, so your little ones can show off their favourite ghosts and ghouls all month long. Simply help them to paint Halloween characters onto small pebbles and attach pin backs to the other side with strong glue.
3. Leafy ghosts
Let nature do most of the work with this craft that uses fallen leaves to create ghostly characters this Halloween. Collect the best fallen leaves from outside – make sure they're nice and dry – and bring them indoors to be painted and decorated.
Try painting them all white and using a marker pen to add the details. Is it a happy ghost or a scary one… let the kids decide! Once they're dry, pin them to the window for all to see.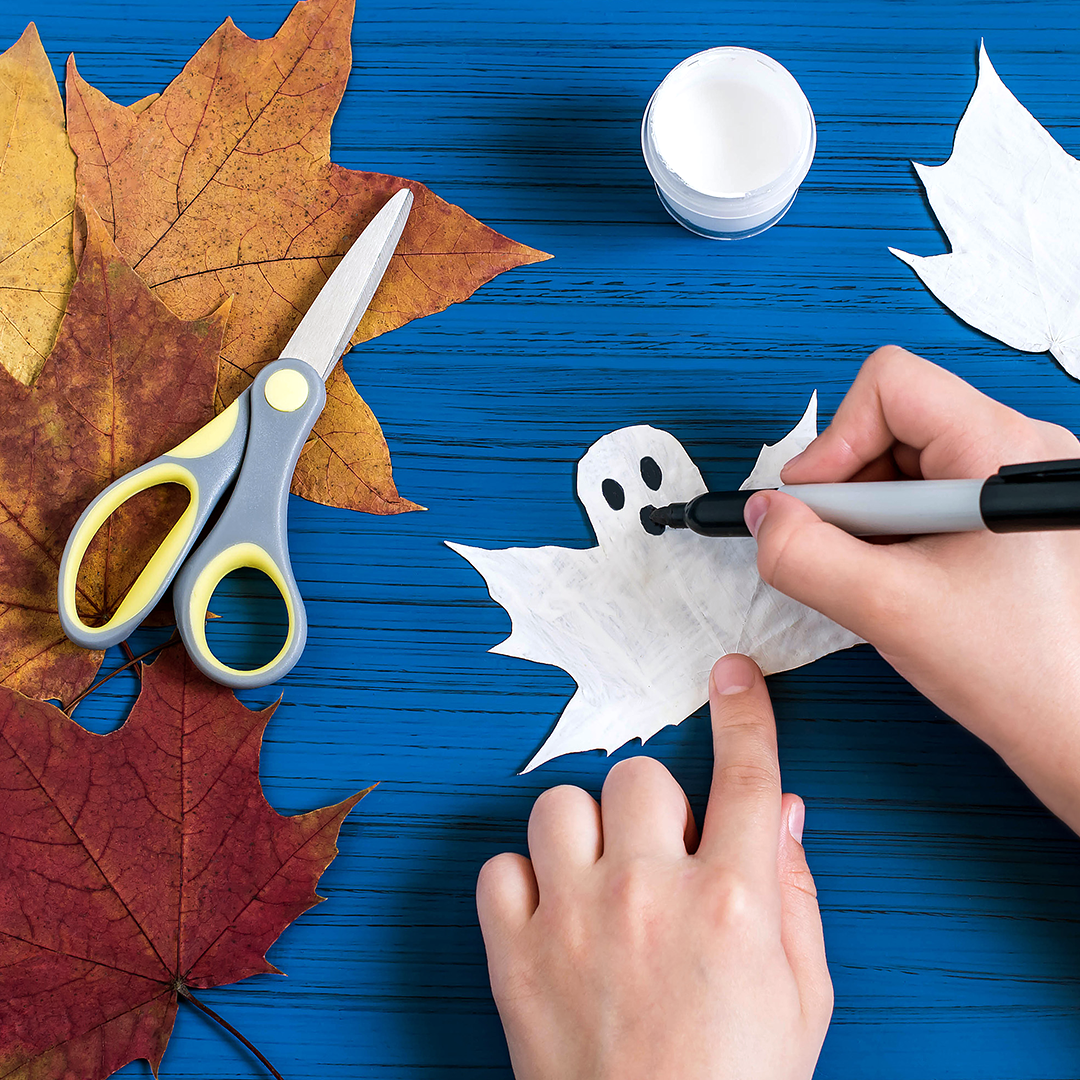 4. Halloween paper chains
Decorating the house at Halloween is a lot of fun, especially when you make your own decorations. The Scout Elves love to make paper chains, and you'll find them all over the North Pole at Christmastime.
Try linking up coloured bits of card – orange and black for Halloween – to make a chain, or fold up a piece of newspaper and cut out bat or pumpkin shapes – just remember to leave one side always connected to make the chain.
5. Paper tube bats
Don't throw away your paper tubes this autumn, transform them into Halloween decorations instead. The kids will love getting stuck into this activity making spooky bats with cutout wings, googly eyes and a bit of paint.
Start by painting the tube black and sticking cutout wings to either side, then let your child design and create the face for the bat. You'll soon have a cute family of bats to hang from the ceiling.
6. Woolly spider webs
All you need is a few lollipop sticks and a ball of white wool for this activity, and maybe a few toy spiders!
Apply a bit of glue to the centre of the lollipop sticks and stick them together to make a star shape – this is the start of your web. Using the wool, weave it over and under each stick alternately until you run out of lollipop stick. Finish by securing the woolen web and attaching your little spider – easy peasy!
7. Straw blowing art
The strange and unusual is what makes Halloween fun (and a little bit spooky), and that's why straw blowing with paint is great for Halloween. The paint blows in any direction it wants creating mysterious shapes and peculiar patterns.
Simply pour a few dots of paint on your child's paper and let them use a straw to blow the paint across the paper. They'll end up with eerie tree-like shapes creating the perfect haunted forest piece of art!
8. Mummy mason jar
Not sure what to do with your empty mason jars? Get creative with the little ones and turn them into a 'mummy' mason jar for all your crafty bits and pieces this Halloween.
Start by giving them a lick of black paint and, once dry, wrap bandages around the jars just like a mummy. Stick on a pair of googly eyes and voila… your mummy mason jar is ready to go!
9. Window silhouettes
The Scout Elves love to make these at Christmas! They use card and coloured tissue paper to make silhouettes of holly, jingle bells, presents and more! We think they're great for Halloween too.
Cut out stencils of ghostly characters, from witches to vampires, and get the kids to glue coloured tissue paper where you want the light from your window to shine right through.
10. Gooey Halloween slime
It's gloopy, fun and incredibly easy to make! Using one of Mrs Claus' secret Halloween recipes, you can create your very own slimeball in an array of different colours and glittery ones too.
What you need:
PVA white glue
Bicarbonate soda
Food colouring
Contact lens solution
Glitter
Follow these simple steps:
Start with around a cup of glue in your mixing bowl.
Add a tablespoon of bicarbonate soda and give it a stir.
Mix in your food colouring and glitter until there are no white streaks.
Add a couple of squirts of contact lens solution – this reacts with the glue to create the slimy texture!
Mix it all together using your hands to knead the mixture.
Your slime is ready to play with!