Set the stage for your Halloween celebrations with a gingerbread house that's a bit creepier than most! The Scout Elves used their creativity to reimagine this common piece of Christmas décor as a table centerpiece just for Halloween by adding touches of spooky and sweet flair. Gather your own pint-sized plastic spiders, bitty broomsticks and small skeletons to create a half-pint haunted house that's as creepy as it is cute!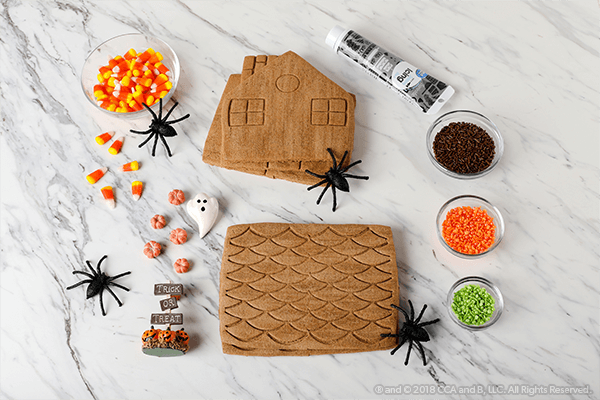 You'll Need:
Gingerbread kit
Black foam core board
Black icing
Orange icing
Green Icing
Knife (to spread icing)
Piping bag
Orange and black sprinkles
Miniature Halloween decorations
Instructions:
ASSEMBLE

the gingerbread house according to the instructions on the package, and place it atop the piece of foam core. (Helpful hint: so your house doesn't move, use icing to secure it to the foam core.)

OUTLINE

each window and door of the house in black icing, and use a piping bag with a decorative nozzle to create a festive orange roof trim.

Next,

FILL-IN

the roof with black icing, and put orange sprinkles on top for a pop of color.
When the black icing is dry,

DRAW

a spider web in green icing and place a spooky store-bought spider figurine on top.

Before you put the green icing away, use it to

CREATE

"grass" over top of the foam core board the house sits on.

ADD

miniature store-bought Halloween decorations on and around the house. The Scout Elves used icing to affix a tiny "Happy Halloween" sign to the front of their house, and added a ghost, pumpkins and sign out front to complete their spooky Halloween gingerbread house.

Once all the finishing touches are put on your Halloween gingerbread house,

DISPLAY

it on a table to impress guests with your creativity!
Looking for more Halloween ideas? Check out the Scout Elves' other October crafts and recipes!
---
This recipe may contain ingredients that can cause allergic reactions in certain individuals. Before using our recipes, always check the ingredient list and food labels of all ingredients and be sure to seek advice from a qualified physician if needed.