Chippey, Snowflake, Fisbee, Buddy—how exactly does a Scout Elf get one of these unique names? For an elf, receiving a name is an exciting moment. That's because after a Scout Elf is adopted and given a name, they receive the Christmas magic needed to fly to and from the North Pole each night to report to Santa Claus! They also use magic for a variety of other important North Pole duties and missions for Santa!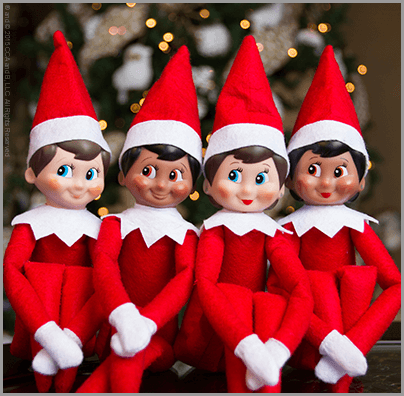 It's up to you and your family members to pick a name for your new North Pole helper.
Not sure how to pick a name for the new addition to your family's holiday tradition? Here are some quick tips for picking the perfect elf name for your family!
Have a family brainstorm and come up with as many names as you can! Put them all in a hat and draw one name out. Leave it up to luck to find the perfect elf name for your new friend!
Pick something you and your family love—sports, gardening, movies, board games, cooking, or any other hobby—and pick a fun elf name based on a favourite player, song, film or flower!
Scout Elves love all things Christmas—so maybe your new elf would like a holiday-inspired moniker! Ask each family member what their favourite holiday treat, object, or tradition is and see how those could become a part of your new elf's name.
Looking for some additional name inspiration? See all of our North Pole Naming Tips to get inspiration for Scout Elf names, Elf Pets® Saint Bernard names and Elf Pets® Reindeer names. Have fun and happy naming, friends!