As Santa's official ambassadors of seasonal fun, nobody knows how to throw a North Pole party quite like the Scout Elves! When you're planning your own Christmas celebration, elf-themed birthday party or even a North Pole welcome breakfast for your Scout Elf, follow these spirited celebration tips to create the ultimate Elf on the Shelf® party.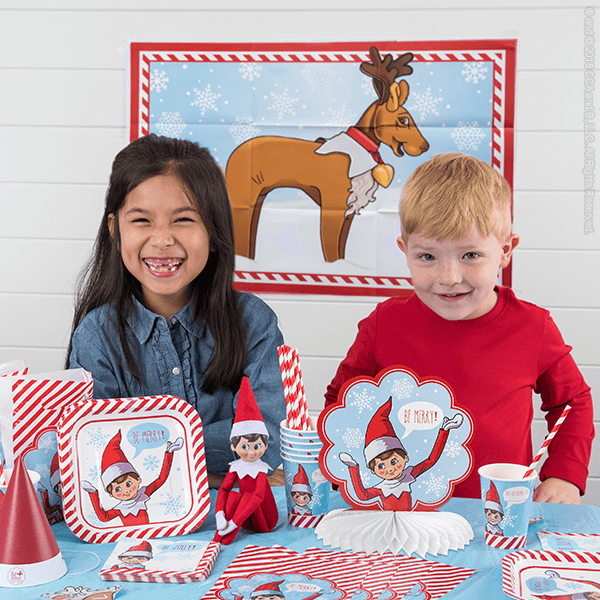 Top Tips for the Best Elf on the Shelf® Party
DECORATE

with cups, plates, napkins and more adorned with Santa's red-and-white suited helpers! The items shown here are included in the North Pole Breakfast™ Party Pack, which contains everything needed for a festive celebration. If you're in a pinch, simply use Santa's favorite colors—red, white and green—to set a spirited stage for your seasonal celebration!

INVITE

your Scout Elf to the festivities. They are the guest of honor, after all, and when you leave them a specially addressed invite, they may be inspired to bring a tasty treat or special surprise just for the celebration straight from the North Pole.

PLAY

games inspired by the North Pole, like pin the tail on the reindeer, polar freeze tag or Christmas character dress-up. Use your imagination as you invent games, or use the Scout Elves' game booklet, full of fun ideas.

SERVE

treats that dessert-loving Scout Elves would approve of! This is your chance to let kids catch a sugar rush from totally delectable treats just like ones Mrs. Claus bakes in her sweet shop.

GIVE

a little parting gift—it'll feel just like Christmas morning! Departing guests may enjoy candy, small Christmas-themed trinkets, or anything dressed up in festive reds and greens to remember all the fun they had at your ultimate Elf on the Shelf® party!
Get the North Pole Breakfast™ Party Pack now, featuring everything you need to throw a festive bash! Perfect for Scout Elf return parties, birthday bashes, Christmas celebrations and more!