The only thing more exciting than the arrival of your Scout Elf this season, may be the fact that kids can play a big role in helping Santa create Christmas spirit! All they need to become a part of this special mission are their Elf Pets® along with great ideas for creating faith, hope and love with a touch of fun! That's where the Scout Elves come in. They've put together a list of some of their favorite ways to play with the Elf Pets® to inspire your child's own holiday fun with their furry friend. The best part is each activity will help your family build plenty of Christmas spirit to make this year's Christmas a great success! Santa can't thank you enough.
Make a Mini Surprise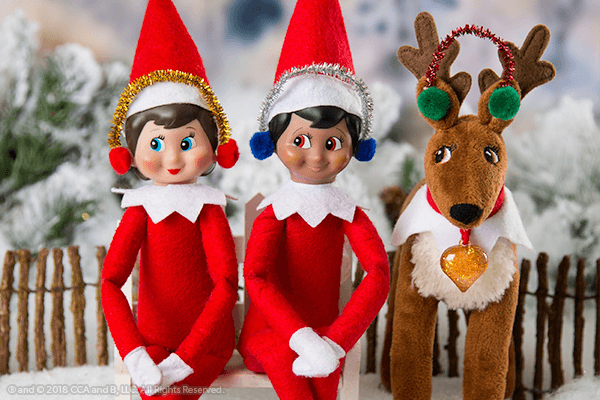 The Elf Pets® love playing with miniature items that are just their size! See what household items you and your kids can use to make a corral, a special toy or even a bed for your Elf Pets® Reindeer or Elf Pets® Saint Bernard. To hone your miniature crafting skills, try making the mini earmuffs shown here from a piece of pipe cleaner and two small pom-poms.
---
Plan a Picnic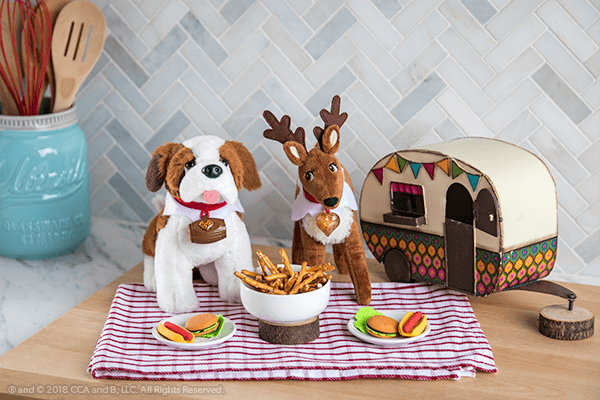 A checkered towel, tiny snacks, a fun backdrop featuring mini toys—spare no detail as you help your child plan a petite picnic that can be enjoyed with your family's North Pole pet.
---
Pamper Your Elf Pets®
Kids can run their very own Elf Pets® spa! Have them begin by creating a to-do list, such as give a bath, go for a walk, teach a new trick and give out a treat, and tell them to mark each off as they pamper their pet!
---
Do Something Nice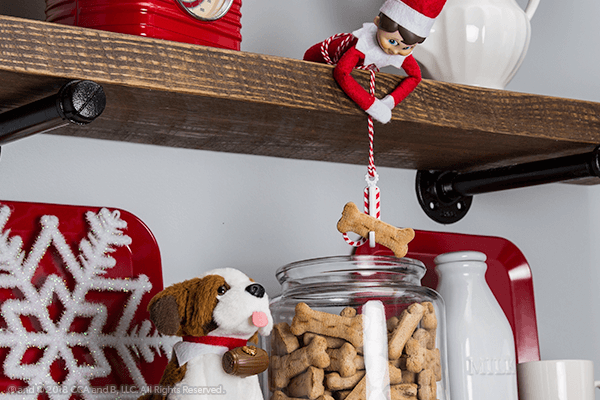 Your Elf Pets® Saint Bernard is there to gather Christmas spirit, which is created whenever kids are kind and help others. Little ones can do their part by doing something kind such as writing a card to a sick friend, chipping in to help make dinner, or even getting a special treat for someone else, like this Scout Elf is doing for his Elf Pets® Saint Bernard.
---
Make a Paws-itively Delicious Treat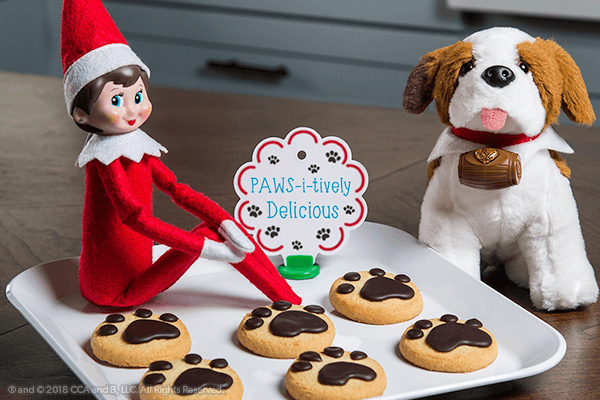 Encourage your child to make a delightful treat that they can enjoy with the Elf Pets® Saint Bernard. If your family has a dog, you can even research treats to make that are dog and human friendly, so all your pups can enjoy! As a finishing touch, use a doggie-friendly icing to draw puppy pawprints on the cookies to create the "paw-fect" snack!
---
Dream Up a New Game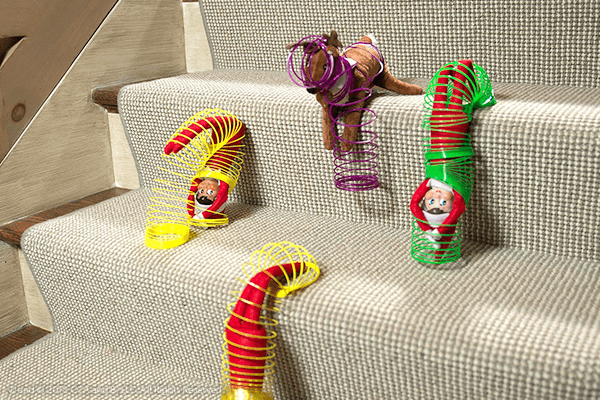 Elf Pets® love to play, and there are endless ways they like to have fun! Gather toys from around the house (and maybe even a game board), and ask your kids to reinvent the rules. They can give their new game a fun name and play it with friends and your family's Elf Pet in tow!
---
Create a Surprise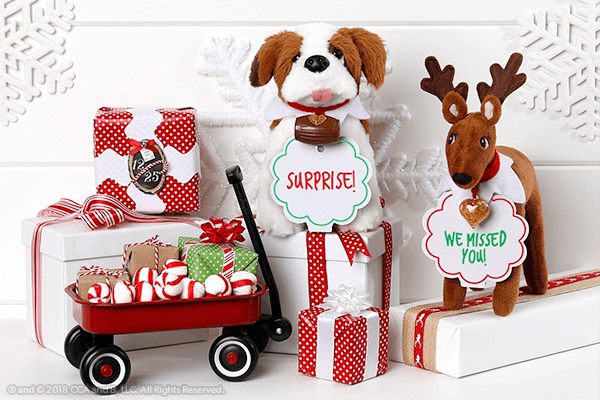 Your Scout Elf and Elf Pets® have one main thing in common: they're all on a mission for Santa, but the Elf Pets® don't fly back to the North Pole each night of the holiday season. That leaves plenty of time for your child to create a mini surprise for your Scout Elf with your Elf Pets®! Help your child create tiny treats and signs for your family's reindeer and Saint Bernard to sit near, and when your elf returns from the North Pole, they'll find their treat!
---
Let Your Creativity Flow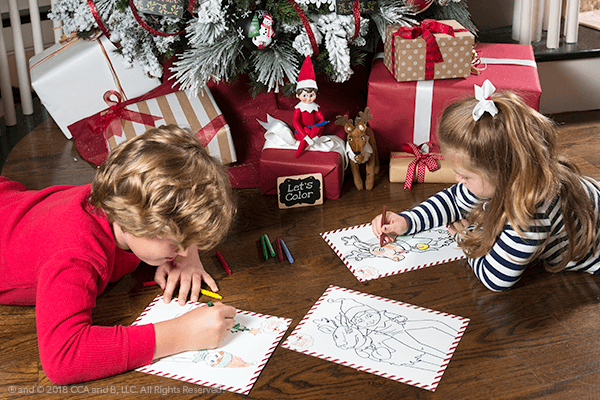 Print out these free colouring sheets, featuring the Elf Pets® Reindeer, and give them to your kids. With their Elf Pets® Reindeer by their side, they can create their own art pieces paying homage to these classic Christmas characters!
---
Read All About It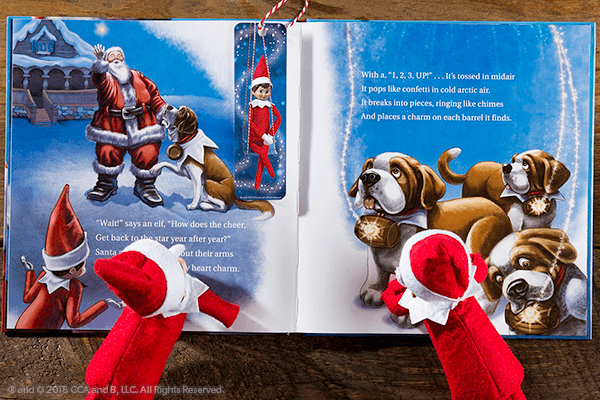 Each Elf Pets® Reindeer and Elf Pets® Saint Bernard comes with its own storybook telling an enchanting tale about their special job for Santa. With your kids and their North Pole pets, read the stories to understand your Elf Pet's special duty—and then help them achieve it!
---
Snuggle, Snuggle, Snuggle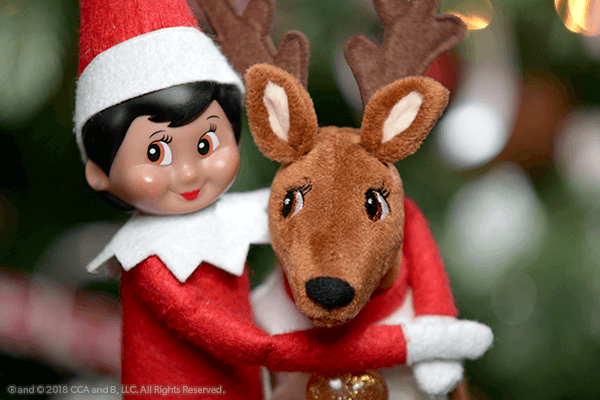 There's no better way to create Christmas spirit than with a good cuddle with the Elf Pets®! This joyous cast of Christmas characters are the perfect companions for creating faith, hope and love and making sure Santa can use all that Christmas spirit for his Christmas duties!
---
Adopt your very own Elf Pets® Reindeer or Elf Pets® Saint Bernard for a season filled with excitement, and to help Santa make Christmas a total success! Browse the entire Elf Pets® collection now!